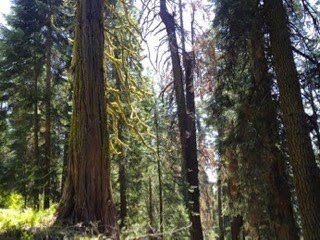 About Grizzly Peak Enterprises
After forty years of timber cutting experience, Albert Altmiller of Orofino, Idaho, built his first axe scabbard. He introduced them to timber cutters in the Clearwater River country in the North Idaho Panhandle. For many years, when logging was in its prime, Al's scabbards were used by almost all the timber cutters in north Idaho and western Montana, and they eventually were well-known in Washington, Oregon and California as well. Today they are also used on the east coast, Canada, and Alaska.
Safety Through Superior Design & Materials
Al's Scabbards are the safest way to carry a sharp axe while in use. The design of the scabbard keeps the axe from poking you in the ribs while you sliding off a log or down a bank. The lightweight scabbards keep your tools handy and are many times safer. The tempered aluminum scabbards are tough and stay clean of snow, dirt, and sawdust and last many times longer than other types of carriers. Rain, snow and sun have no effect on these masterpieces.
Testimonials
Don't just take our word for it! Our materials have been used by timber cutters for more than 30 years. Over that time, we've managed to make quite a few friends and fans. Here are the actual words of some of our customers.
"This is the finest product for a sawyer. They are lightweight and keep all of your tools handy. I grab my belt and harness and I have my wedges, axe, fire extinguisher, and tapes all ready to go. The harness takes all the weight off of your hips and I no longer have red sores on my hips because you don't need the belt very snug. I can't believe everyone sawing logs doesn't use these."
"I used to carry my axe stuck in my belt or throw it from tree to tree. Not only was this unsafe, but time lost looking for my axe or wedges was costly. Now my axe and wedges are right where I can use them and the harness is fantastic for carrying the weight of the axe and wedges and is nice when carrying my saw on my shoulder."
Four Reasons To Purchase GRIZZLY PEAK'S Scabbards
1. Safer to Use
2. Lightweight
3. Quality Construction
4. Field Test Durability